The Origins of Shepherd's Pie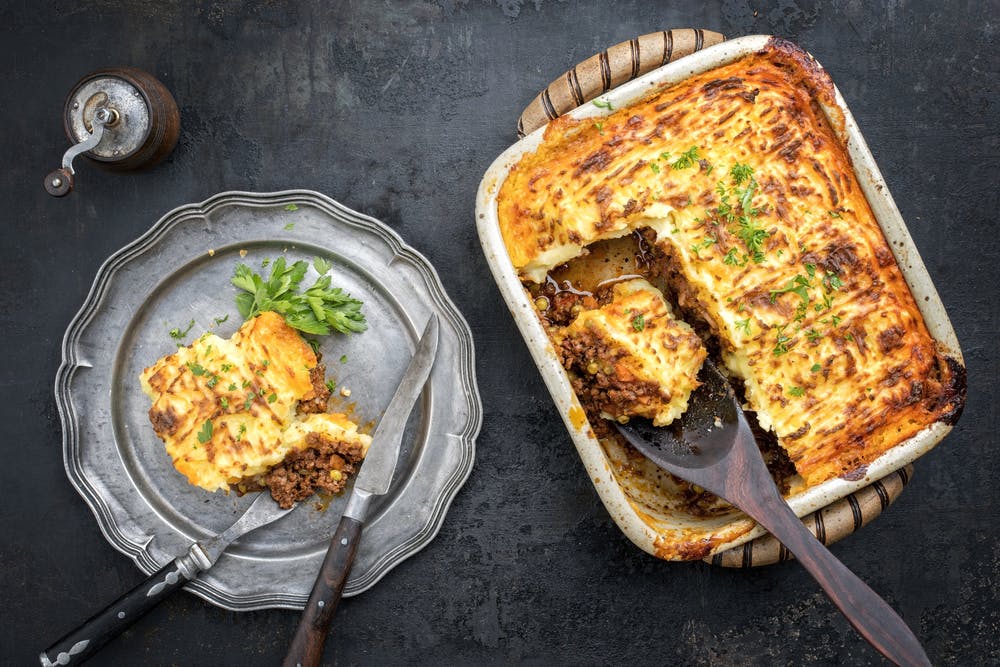 A lot of the foods that we know and love today have been around for many generations. Although recipes evolve and change over time, knowing the origins of a dish really does give you a newfound appreciation for what you're about to eat. Let's take a closer look at a true Irish classic – Shepherd's pie!
What is Shepherd's Pie?
Shepherd's pie is a hearty dish that begins with a mashed potato crust on the bottom. Minced meat is cooked with vegetables and gravy to form a delicious filling. Finally, another layer of mashed potatoes is added on top to form a pie! The pie is cooked in the oven until the contents are warm and the top crust has a slight crunch.
Shepherd's pie recipes vary greatly, but if you keep that basic structure, it'll still be tasty. This is the perfect dish to make when you need to use up vegetables or meat products before they go bad. It's pretty hard to make mashed potatoes, meat, vegetables, and gravy taste bad after all! There is a learning curve to achieve the perfect crust texture, but it's nothing that can't be overcome with practice.
The Origin Story
Shepherd's pie originated in the 1700s in Ireland. During this time, money was tight for families. Housewives were left trying to make use of every bit of food they had. Nothing could go to waste when you weren't sure when you'd have fresh food again. Shepherd's pie was a creative way for families to combine leftovers from other meals to make a new dish that's extremely filling. Since Shepherd's pie began as a way to make use of what you had on hand, there isn't one recipe that you can say is the right one. Different families formed different variations and that's how it remains today! Shepherd's pie acts as comfort food in Irish culture. During good times and bad, a warm Shepherd's pie is the perfect way to end the day with your family.
The best way to get a taste of an authentic Shepherd's pie is to visit an old-school Irish pub. Irish pubs are widely known and loved for sticking to their roots and keeping recipes simple. Once you've tasted a traditional Shepherd's pie, maybe you'll feel brave enough to make your own at home! Making a Shepherd's pie is a great way to use up old vegetables and meat before they go bad.
Try Shepherd's Pie at Five Roses Pub
Stop by Five Roses Pub today, located in Rosemont, IL for a taste of authentic Shepherd's pie at a real Irish pub! Our menu features classic Irish dishes and the atmosphere that's filled with sounds of Irish music truly can't be beat. Book a reservation to dine with us today!