The Origins of Corned Beef and Cabbage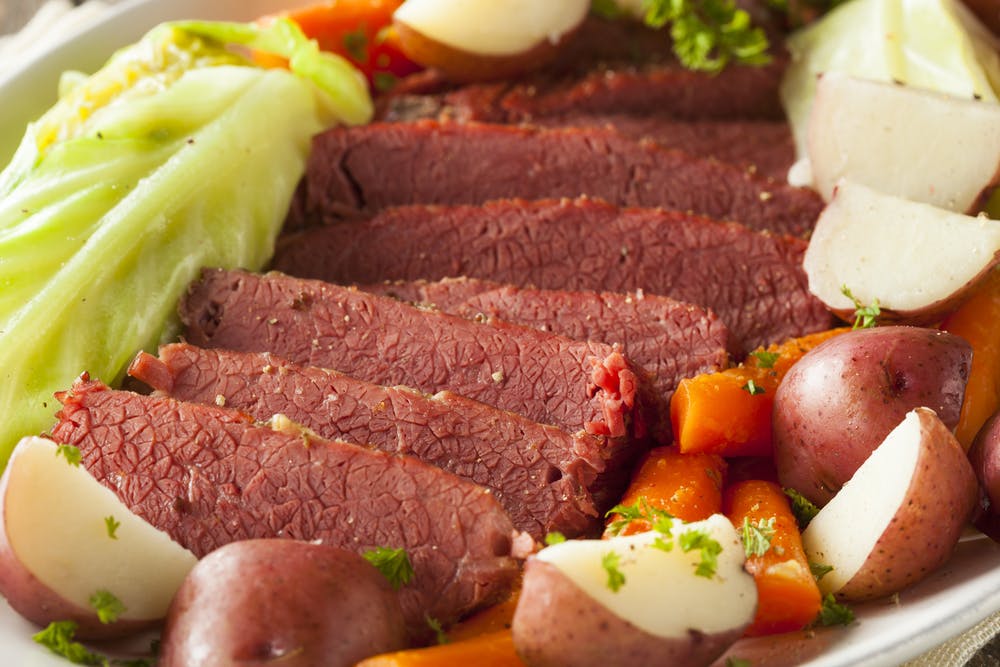 Whether you're Irish or not, most people are aware that Corned Beef and Cabbage is the traditional meal for Saint Patrick's Day! This seemingly simple dish is prepared and enjoyed by the majority of Irish people on St. Patty's Day, but why? To figure why this dish is a tradition, first, we have to understand what the dish is and where it got its start! Keep reading to learn more about the origins of this infamous dish.
What is Corned Beef?
Corned beef is a large cut of beef that's soaked in salt brine before being cooked. The name "corned" beef comes from the large rock salt that was used before salt brine solutions became the norm. The large pieces of salt were called corn, hence 'corned beef'.
Irish Bacon VS Corned Beef
Beef was not eaten in Ireland historically. In fact, cattle were rarely used for meat! They were much more valuable for their dairy production, so cows were only eaten if they were old or dying of natural causes. Instead, the people of Ireland enjoyed pork. Pork was easily accessible and cheap in Ireland, so Irish bacon was a favorite food for many.
When Irish people started to immigrate to the US, they were exposed to more beef consumption than ever! The beef was cheaper and more accessible in the US than it was in Ireland, so it was included in more meals. As Irish immigrants started to try traditional Jewish meals, they were exposed to corned beef. It became a quick favorite for Irish immigrants because the taste of Irish bacon is very similar to that of corned beef!
Rounding Out the Meal
Corned beef is a good source of protein, but it's not a full meal. People began adding cabbage when they cooked their corned beef to add nutritional value, fill more people from one meal, and create a complete meal. It was especially convenient that the corned beef and cabbage can be cooked at the same time in the same pot without compromising the flavor of the dish. Potatoes were often served on the side if they were available and within budget at the time. Eventually, corned beef and cabbage became a traditional American-Irish meal!
This dish holds a lot of sentimental value for people who grew up eating it so many years ago. It's a nice reminder of just how hard the first Irish immigrants had to work in order to keep their families fed during a tough transition period. Whether you enjoy it regularly or just on Saint Patrick's Day, corned beef and cabbage is never a bad idea!
Book a Reservation at Five Roses Pub
At Five Roses Pub, we take a unique spin on this traditional dish! We offer delicious corned beef sliders, Reuben egg rolls with corned beef, and a classic Reuben sandwich with corned beef. These tasty dishes are some of our fan favorites on the menu at Five Roses Pub. We're an authentic Irish pub located in Rosemont, IL. There's no better place to get an authentic Irish experience without leaving the states!