The History of the Rueben Sandwich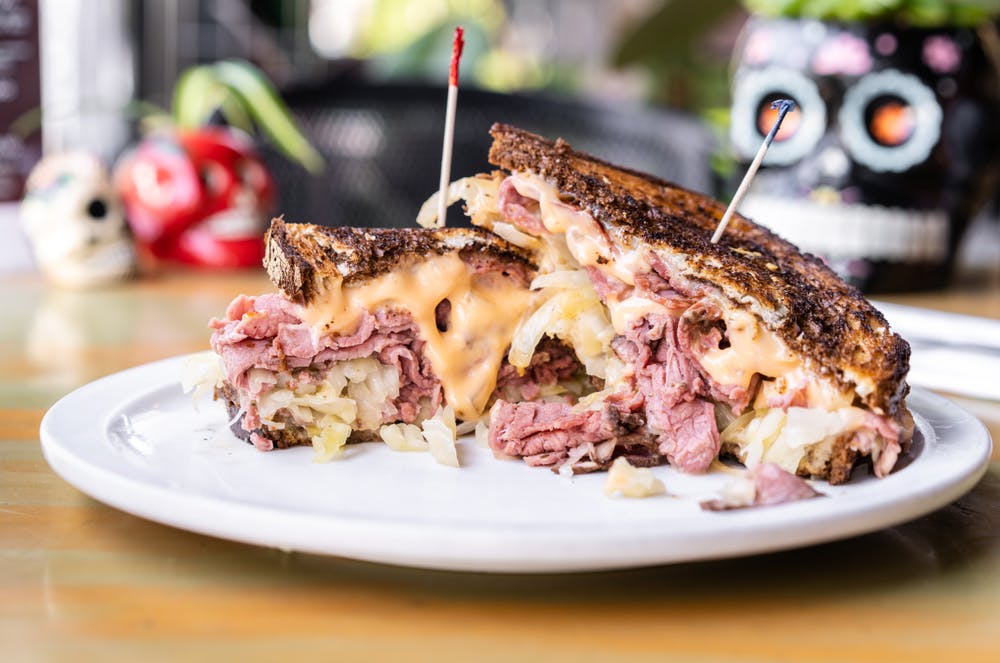 When you go out to dinner and enjoy a nice meal, you're probably not thinking about much other than how it tastes. However, if you really want to be a "foodie," it's important to know the origin of the foods your eating. Plus, it's a good fun fact to share with your friends while dining out to eat! If you're a fan of the Reuben sandwich, we're going to take you back in time to learn a little about where it all began!
In 1762, food history was made when the traditional sandwich was invented. Since then, it's been the goal of hundreds to create The Best Sandwich. From tuna salad to pastrami to the classic club, there are literally thousands of sandwich variations around the world. Today, we're talking about one of the most popular sandwiches in America: The Reuben.
What is a Reuben?
First of all, let's talk about what this delectable sandwich includes. A traditional Reuben features thinly sliced corned beef on Russian rye bread. Other fillings include Swiss cheese and sauerkraut. You can find variations on the Reuben, but this is typically the recipe.
The Reuben Timeline
Like any food, the origins of the Reuben sandwich are murky and anecdotal. There have been a few claims of who invented the sandwich, but here's what we know.
Arnold Reuben owned Reuben's Restaurant and Delicatessen in New York in the early 1900s. According to the tale, a famous actress came into the deli after a long day of shooting a film with Charlie Chaplin. She was famished and asked for a large sandwich with different toppings, which Arnold put together. According to his own account, the sandwich was a foot high of sliced meat, swiss cheese, "spice and stuff," and homemade Russian dressing.
The actress was so impressed that she ate it all up and even brought friends over a few weeks later to order another one. She even asked Arnold if he would name the sandwich after her the way other restaurants did. Instead, he decided to name it after himself, and it became the Reuben Special.
Of course, that's not the only tale of how the Rueben came to be. There's another version of its origins that focuses on Reuben Kulakofsky, a grocer in Nebraska around the same time that Arnold Reuben had his restaurant. IN this story, though, Kulakofsky was a member of a poker group who enjoyed playing cards as much as they enjoyed creating masterpiece sandwiches. Kulakofsky's creation – supposedly the Reuben – was such a hit that one of the other players put it onto the menu of one of his hotels.
A third claimant of the creation of the Reuban is Fern Snider. In 1956, she submitted the sandwich to the National Sandwich Idea Contest from American Restaurant Magazine. Out of 600 entries, the Reuben won the grand prize.
Whether Arnold Rueben, Reuben Kulakofsky, or Fern Snider created this mile-high sandwich is unknown, but clearly, it's a winner!
Try a Reuben Sandwich at Five Roses Pub
If you've never had a Reuben sandwich and are ready to finally try one out, head over to Five Roses Pub in Rosemont, IL. Our delicious Irish pub offers authentic Irish cuisine alongside some global favorites like the Rueben sandwich. Ready to try it out? Give us a call to make a reservation or walk-in! Don't forget to share these fun facts with your friends to impress them while you're chowing down on your Reuben sandwich.