Irish Coffee: What is it & How to Make it!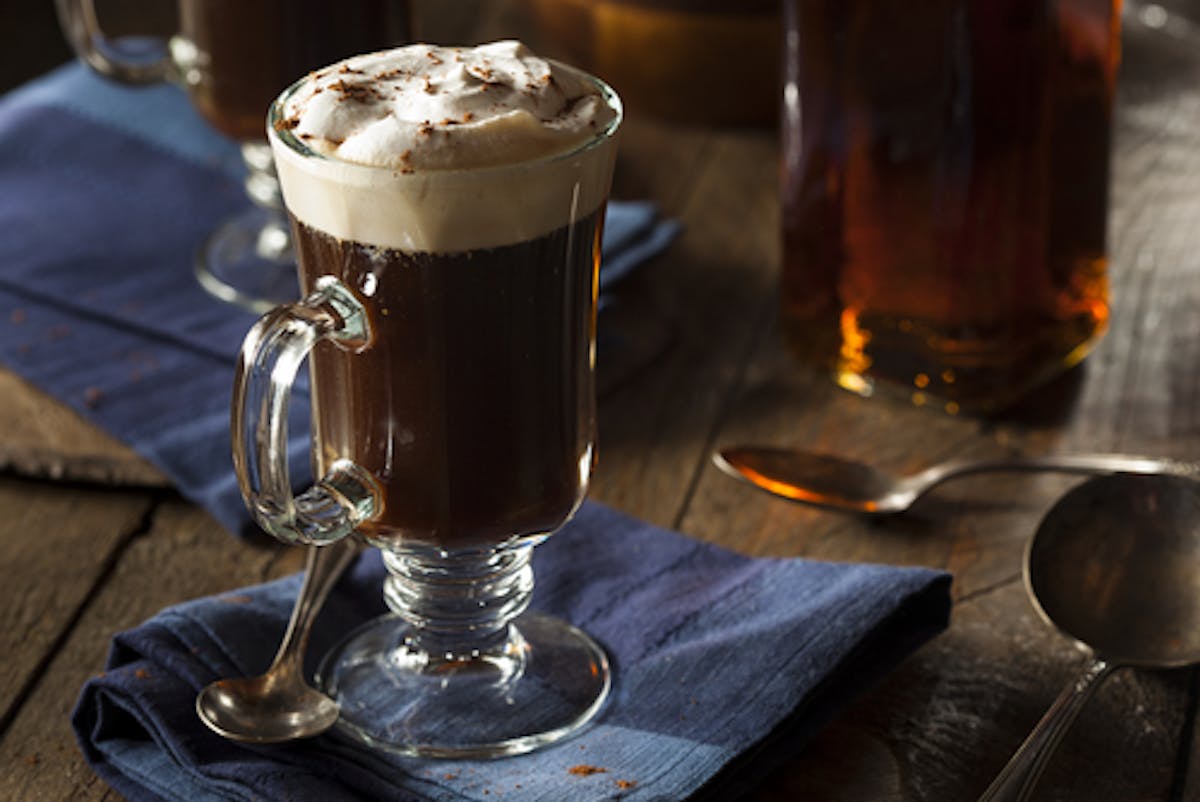 We all love our drinks to have a bit of a backstory, and this iconic cocktail is no exception. The Irish coffee was created by an Irish chef and made famous by an American journalist. Now there's a lot of warmth to this story but It's safe to say that since this drink has left the shores of Ireland where it was created, No one can get enough of it.
The story goes that even the first bartender who tried to make Irish coffee in America had to take a trip to Ireland to learn the secrets of this unique drink directly from the source. Every time he tried to make it, the cream would sink to the bottom instead of floating at the top and forming a smooth creamy layer. Thank goodness the Irish chef was generous enough to share his methods because that's exactly what we're going to share with you today.
Kitchen Tools & Ingredients
The Irish coffee, though relatively simple to make, comes with a few obstacles, making the cream stay on top of the mixture is just one. Each step in making this masterpiece requires precision and timing. You can find most of the items for this hard cocktail in your kitchen
Kitchen Tools
Heat resistant glass cup
Coffee maker
Stirring spoon
Squeeze bottle
Ingredients
Hot coffee 2 ⅔ oz
Brown sugar 2 tsp
Whipped cream 1 oz
Irish whisky 1 ⅓ oz
Directions
Step 1
Pour hot water into the glass cup and leave it in for a while, this will keep the glass warm while you're stirring your cocktail.
Step 2
While your glass cup is being warmed, make your whipped cream by adding cold heavy cream into the squeeze bottle with a spring in it. Shake the bottle until you get a watery whipped cream.
Make sure it's not too watery because it won't float on top of the cocktail.
Step 3
Grab your glass cup and dispose of the water. Add 2 tablespoons of brown sugar into the empty cup.
Step 4
Pour the hot coffee into the cup, add enough to dissolve the brown sugar, and begin to stir until the sugar has dissolved.
Step 5
After you've dissolved the sugar, pour in 1 ⅓ oz of Irish whiskey.
Step 6
Pour the rest of the coffee into the mixture until you get to about an inch from the top of the glass. Don't forget to stir while you add the coffee.
Step 7
This might just be the most important step so be very careful while you're doing it. Squeeze the whipped cream out of the bottle in concentric circles around the glass until you get to the middle. This is a beginner-proof method. You can also pour whipped cream over the stirring spoon into the cup but this can get a little messy and frustrating especially if you're a beginner at making the Irish cocktail.
Irish Coffee at Five Roses Pub
If you follow the seven steps listed above correctly, your cocktail should be ready to be enjoyed. But if you'd like to treat yourself or a loved one to a professionally made Irish coffee head on over to Five Roses Pub. Our cocktails are made by seasoned experts who deliver on customer satisfaction every time!