How to Make Irish Coffee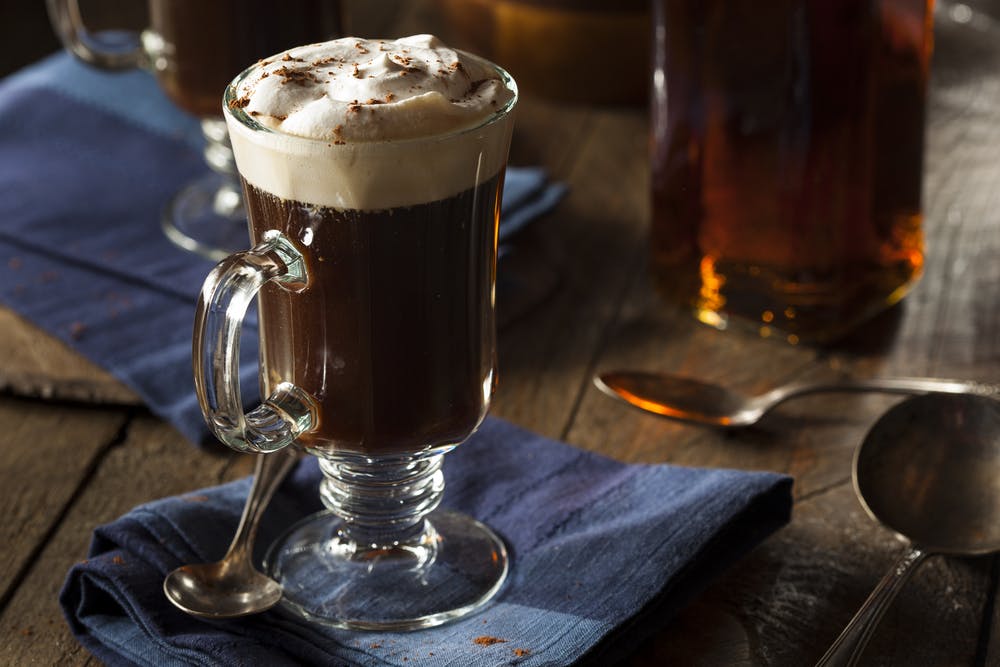 Irish coffee is an excellent fall and winter treat. The combination of hot coffee combined with the zing of Irish whiskey creates a truly warming drink that's naughty and nice. At Five Roses Pub, Irish coffee is a work of art - and you're the artist! Keep reading to learn all about how we let you create a customized Irish coffee for your specific taste.
What is Irish Coffee?
If you've never had an Irish coffee, you are in for a treat. The drink is made from fresh-brewed hot coffee, sweetened with sugar, and mixed with a measure of Irish whiskey. Then, soft whipped cream is layered on top of the coffee and finished off with chocolate shavings.
How We Make Irish Coffee
Irish coffee is pretty simple to make at home, but at Five Roses Pub, we make it a treat you won't forget. We've created a menu so that you can design your own bespoke Irish Coffee that will be your next usual. Or, for more adventurous tastes, try a different combination every time you visit!
When creating your Irish Coffee with us, here's what you'll do:
Step One: Choose Your Whiskey
At Five Roses Pub, we carry all the best authentic Irish whiskeys. Jameson Original is a popular choice, but don't be afraid to try one of the lesser-known makers. Teeling Small Batch and Kilbeggan Single Small Batch are some of our favorites. Or try the ultra-smooth Tullamore Dew from the boggy midlands or Bushmill's Original from the North.
Step Two: Choose Your Flavor
To enhance the unique flavor profile of your selected Irish whiskey, you can choose to add an extra shot of flavor. We've got five tasty offerings that will help you create your own custom Irish coffee. We've made sure that the flavorings work well with all our Irish coffee - you just need to find the combination you like best! Choose from Pumpkin Spice, Apple Pie, Maple-Vanilla, Frangelico, or Amaretto.
Step Three: Choose Your Garnish
Now that you have your Irish coffee-flavored perfectly, it's time to select your garnish. A great garnish goes a long way to complete the taste of your drink, so choose wisely (or go bold, and experiment wildly!) Select from cinnamon sugar, milk chocolate, or salted caramel.
Step Four: Get a Little Extra
If your coffee needs a little more oomph, we've got a few extras that might interest you. They both add a hit of creaminess, flavor, and alcohol. Choose from Bailey's Irish Cream and Nooku Peppermint Cream for an extra indulgent treat.
Try Irish Coffee at Five Roses Pub
Ready to discover your favorite Irish Coffee combination? Head over to Five Roses Pub, the best Irish pub in the Rosemont, IL area. Call ahead to book a reservation or stop in!