Healthy Menu Options to Start Your New Year Right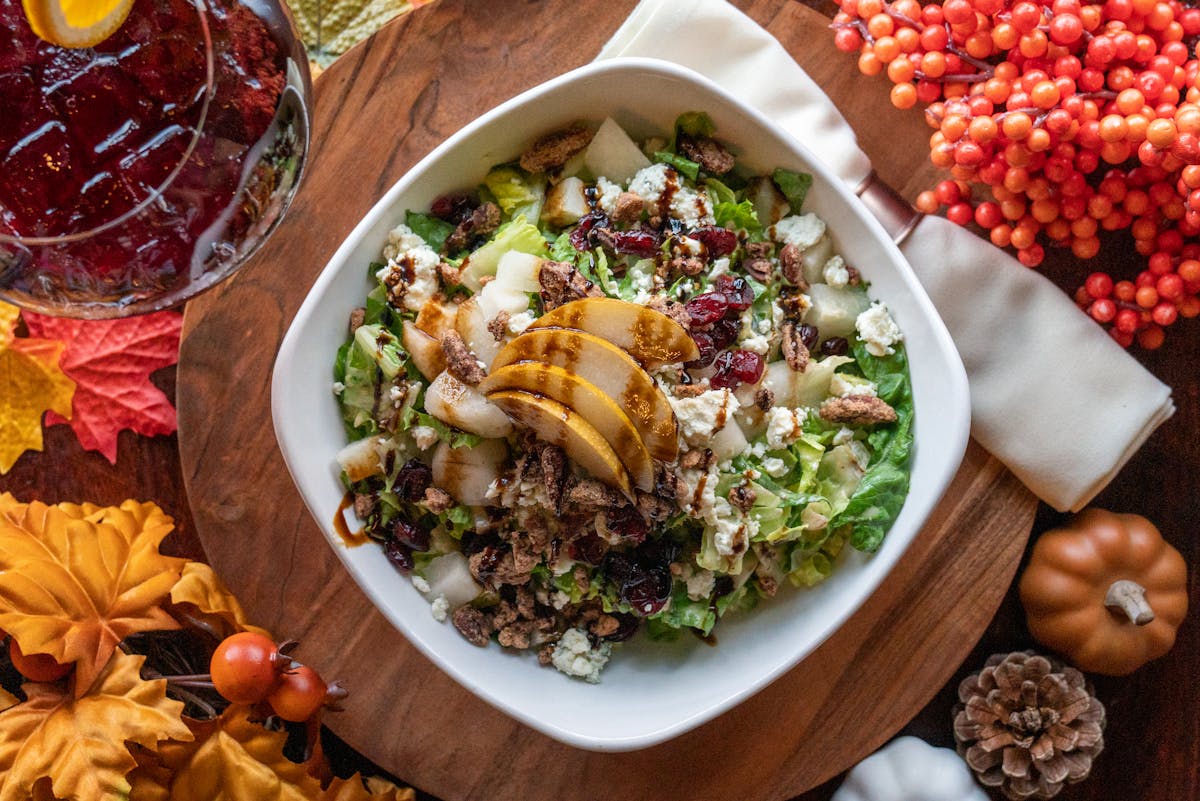 The start of a new year always sparks the thought of resolutions. For many people, after the holiday season, getting back on track with our health goals is a main priority! However, that doesn't mean you can't eat out or enjoy tasty meals. At Five Roses Pub, we have plenty of options on the menu that will satisfy your tastebuds, while staying on track with your health goals! Below are some of our lighter options that are fan-favorites.
Greek Salad
A healthy go-to for many is salads. Our greek salad is a classic option with romaine, feta cheese, kalamata olives, cucumber, pickled onions, pepperoncini, tomato, fresh herbs, and grilled chicken for protein. It's all topped with a delicious oregano vinaigrette!
Pecan, Pear & Bleu Cheese Salad
One of our favorite salads that's perfect for fall or winter is the pecan, pear & blue cheese salad. It's topped with an apple cider vinaigrette! You can also add chicken or salmon for a bit of protein.
Butternut Squash Soup
Healthy eating doesn't always have to be just greens and salads! There's something so comforting about a warm bowl of soup on a chilly winter day. Butternut squash makes a hardy soup that is as tasty as it is comforting. Try a bowl of soup alongside a salad for a filling meal!
Fish Tacos
There are many health benefits of eating fish, from omega-3 fatty acids to vitamins and minerals such as vitamin D, B2, iron, zinc, and the list goes on. The American Heart Association recommends eating fish at least two times a week for a healthy diet, and we have the perfect dish to incorporate them into your diet! Our fish tacos at Five Roses Pub include beer-battered cod, topped with pico de gallo, avocado, and chipotle cream; Yum! We told you, eating healthy doesn't have to be boring!
Wild Salmon
Salmon is another fish that is praised in the health world for its impressive nutritional value. It is packed with omega-3 fatty acids, B vitamins, potassium, selenium, and is also a great source of protein! Overall, it's a great food to add to your diet. Our wild-caught Atlantic salmon is served in a lemon garlic butter sauce over rice pilaf.
Dine With us at Five Roses Pub
Ready to start your new year right with tasty and healthy options? Come dine with us at Five Roses Pub in Rosemont, IL. Book a reservation online or stop in today!